The FAWCO
Target Water Project
What is the Target Water Project?
It is an intense effort on behalf of FAWCO clubs and individuals to educate, raise awareness and fund raise towards improving access to safe drinking water. The FAWCO Target Project is an important part of FAWCO´s commitment as a recognized NGO at the UN to support the UN Millennium Development Goals. In November of 2010, Tabitha - Cambodia, Wells for Clean Water was selected by FAWCO clubs as the recipient organization of the projects fund raising efforts.

The final report for the Target Water Project was given at the FAWCO conference in Bern 2013.
Final tally: 54 of the 73 FAWCO clubs participated in fundraising, $135,255 was raised for Cambodia and another $27,355 for other water projects.
So the final total is $162,590 for clean water!!!!
Over 1500 families now have clean water thanks to our efforts.

Water Target Project Medallions
The first Target Program has been completed and the results were announced at the FAWCO Conference in March. The results were stunning-over $162,000 was raised by clubs, their members and friends. The money raised for the Target project was donated to Tabitha-Wells for Cambodia.
Other clubs raised an additional $27,000 for other water related projects worldwide and FAWCO recognizes those efforts*.

Below are the Diamond, Platinum, Gold and Silver medallions that recognize the clubs contributions. In days past, a club would have received a certificate that was eventually put away in a drawer or folder. We felt that in the world of virtual clubhouses and online newsletters, these clubs might want to place this medallion on their website, newsletter or stationary. This will let members and other visitors to the club's website know that these clubs were active in an effort to help the UN reach one of the 2015 Millennium Goals. We also hope that potential members and sponsors will find this medallion a symbol of the clubs commitment to helping others.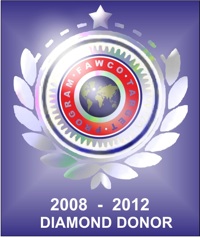 AWG PARIS
AWC LUXEMBOURG
AWC ZURICH
*AIWC Cologne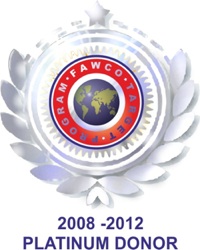 FAUSA
AWA DUBAI
AWC OF THE HAGUE
AIL OF FLORENCE
AWC LONDON
AW OF THE EASTERN PROVINCE
Benvenuto CLUB OF MILAN
AWC OF AMSTERDAM
*AWC HAMBURG
*AWC DUSSELDORF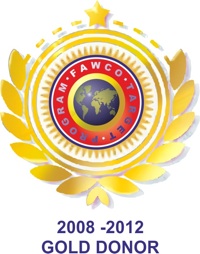 BWN BARCELONA
IWC TORINO
AWC LEBANON
CHITERNS AWC
AWC PERTH
AWA ROME
AWO MOSCOW
AWC SHANGHAI
AWC BASEL
AWC OSLO
AWA VIENNA
AAWE PARIS
AWG LANGUEDOC ROUSILLION
AWC BOGOTA
AWC LAGOS
*AWC KOREA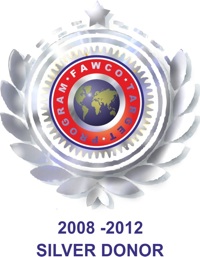 AWA QATAR
AWC CENTRAL SCOTLAND
AWC ANTWERP
AWC BERN
AWC AARHUIS
AIWC GENOA
AW SURREY
AWC BERLIN
AW OF BERKSHIRE
ANTIGUA AND BARBUDA
AWC GOTHENBERG
AIWC CASABLANCA
AAW ABERDEEN
AWC BRUSSELS
AAW ROTTERDAM
AWC DUBLIN
AWC FINLAND
NORTH AMERICAN CONNECTION
AWC MALMO

The FAWCO Water Project
Tabitha - Cambodia, WELLS FOR CLEAN WATER

About Tabitha Cambodia
Janne Ritskes founded Tabitha-Cambodia in 1994. Activities centered in Cambodia, whose people were decimated by a regime that promoted enforced starvation, mass executions, slave labor and wholesale dislocation to such a degree that the social, moral and economic fiber of the country was left in tatters. From 1975 to 1979 the Khmer Rouge systematically killed an estimated two million Cambodians, almost a fourth of the country's population.
Tabitha's aim is to reach out to the despairing in their communities and enable them to address their needs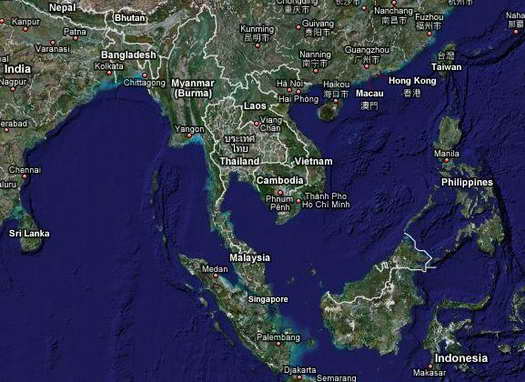 in a holistic and sustainable way, thereby transforming their lives. Tabitha's current programs affect 1.6% of Cambodians, over 248,000 people in twelve provinces. Since 1994 Tabitha has lifted more than half a million Cambodians out of poverty and despair, into lives of dignity, hope, and active participation in their communities.
Tabitha-Cambodia runs 4 major programs: Savings; Wells and Ponds; Volunteer House Building and Cottage Industry Crafts. You can read more about these programs at http://www.tabitha.ca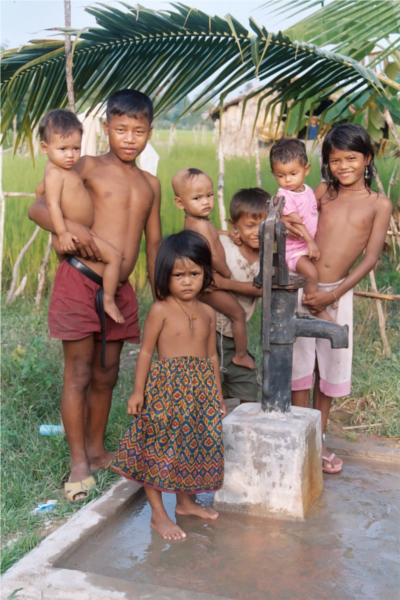 Tabitha Wells Program
The Tabitha Wells program runs in parallel to the "Family Development through Savings" program. Tabitha- Cambodia constructs, on average, 90 wells per month. The majority of families enrolled in the Savings Program have no access to clean water. The nearest source of clean water may be several kilometers away.

In the absence of safe wells, drinking water is taken from open ponds or rivers that are commonly polluted with excreta or chemicals. Villagers, and most importantly children, often develop dysentery.

The impact of access to clean water through the installation of wells on families is immediate and significant. The first, very noticeable impact is the decrease in the incidence of diarrhea and skin infections in the families. Within weeks, children and adults had gained weight; their skin tones and eyes lost that haunted, dry look and their ability to work increased by several hours a day.

The second, very noticeable impact is the increase in income and improvement in diet. All of the families receiving wells are required to earn an income from these wells. Income can be earned through animal husbandry – the raising of pigs, chickens, ducks; through the raising of fish and all families are required to grow vegetables and or rice – for small plots a kitchen garden is sufficient – for people owning larger plots – vegetables and rice are mandatory.
Types of Wells
Two types of family wells are used in Cambodia – the decision on which type will be used in an area depends on the type and quality of water available.

TUBE WELLS: A machine drills a pipe to reach the aquifer – usually 50-60 meters down. A hand pump is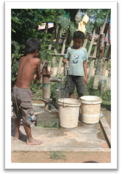 placed at the top of the pipe allowing water to be pumped to the surface. A cement apron is placed around the well. Tube wells are used whenever possible, that is when good quality water can be found in deeper aquifers. They supply THREE families (24-30 people)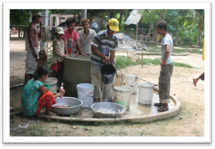 OPEN WELLS: The families dig a hole about 10-15 meters deep. Cement pipes are then used to keep the well open and rise more than 1 meter from the ground. Tops are placed over the well to prevent pollution and villagers are taught about correct sanitary well maintenance. Open wells are used when deeper water is brackish or polluted, preventing the use of tube wells. They supply THREE families. The cost of tube or open wells is approximately $150 per well.

FIELD WELLS: Deeper and wider than an open well, field wells provide clean water for both household use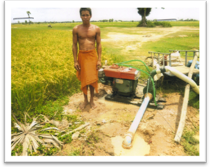 and irrigation. A field well allows families to grow crops year round on 4 hectares (10 acres) providing them with a steady income. A field well is shared by TWO FAMILIES. A field well costs $250.

Maintenance: Families are trained to maintain their wells in good working order. The contractor is locally based, so can be called in to do major repairs if needed.