The Roots of the Foundation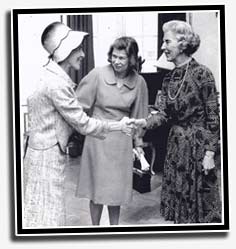 Mary Mag, Edith Beyer, and Queen Ingrid of Denmark, 1977The FAWCO Foundation was established in 1967 by FAWCO President Mary Mag and her Board as FAWCO´s philanthropic arm. For over fifty years, The FAWCO Foundation has worked diligently and passionately to fulfill its purpose to implement the Federation of American Women's Clubs Overseas, Inc.'s philanthropic concerns and interest in the global community, specifically by aiding charitable, scientific and educational programs, and by supporting the rights of women and children throughout the world.
The Foundation continues to design and tailor programs to meet the ever-changing needs of the global community which it serves, and faces the future confident in its role as FAWCO's philanthropic heart. The FAWCO Foundation listens to your voice, the voice of the Member Clubs, and supports your projects, programs and passions. The FAWCO Foundation is your foundation.
Your Projects, Your Passions, Your Foundation.
History of Development Grants and Education Awards
Education Awards:
The importance of fostering peace through knowledge and understanding and the belief that education is essential to developing peace-loving attitudes in children are cornerstones of The FAWCO Foundation Education Awards Program. The first FAWCO scholarship fund was created in 1935 when a member of AWC London donated $1000 a year for two years "to launch two promising American candidates on their studies in Europe." Today The FAWCO Foundation Education Awards Program offers annual awards to Club members and their children.
Development Grants:
The first grants were made in the form of disaster relief in response to requests from Member Clubs at FAWCO Conferences. In 1985, in response to an earthquake in Chile, FAWCO established a Disaster Relief Fund to quickly answer requests for immediate-aid projects. This fund was transferred to The Foundation in 1997 and renamed the Relief and Development (R & D) Fund. With clubs increasingly demonstrating interest in supporting long-term on-going projects, the R & D Fund was renamed The FAWCO Foundation Development Grants (DGs). Member Clubs may nominate two projects or programs in two different DG categories. DGs are projects and programs known by the nominating club and have primarily aided women and children in developing countries. Recipients are chosen by majority vote of the Member Clubs.
As of 2017, The FAWCO Foundation has made a difference in the lives of so many by giving almost $1.5 million through the Education Awards and Development Grants Programs.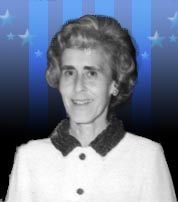 Mary Mag Hasse - A Founding Spirit
Mary Walker Mag Hasse, FAWCO president who, along with her board, established The FAWCO Foundation in 1967, is the personification of the very spirit of FAWCO and its dedication to aiding others. Mary devoted virtually her entire adult life to improving the lot of women through teaching or volunteerism, either by her own efforts or by joining others in theirs, such as FAWCO, which enabled her to increase her effectiveness exponentially. Mary lived an inspirational life and was a shining example of deep commitment and passionate involvement. Hers was the very spirit of FAWCO.
Foundation Milestones
1931 Federation of American Women's Clubs in Europe founded in London to promote the concerns of its members as well as international issues; name changed to the Federation of American Women's Clubs Overseas (1935) with the acronym FAWCO.
1967 The FAWCO Foundation established as the philanthropic arm of FAWCO, registered as a 501(c)3 in the state of Missouri
1969 First grants made to victims of Lisbon flood and Sicilian earthquake.
1972 First scholarship ($1000) awarded; fundraising appeals launched. Grant made to AWC Brussels for the American International Youth Center.
1973 Precursor of later memorial awards given in memory of Edna Balfour.
1977 Awards Committee Chairperson established in Bylaws.