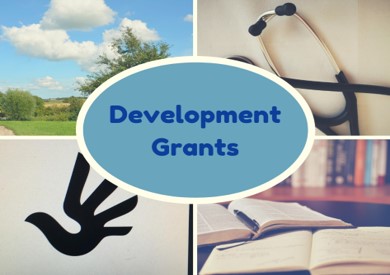 EDUCATION
AW Surrey Hope Through Education $4000

Recipient: "I Will Learn!"—Keeping Tribal Children in School, Three hamlets belonging to Hazarwadi, Sangamner Taluka, Ahemdnagar District, Maharashtra, India
By the age of 13, more than half of the tribal children in rural Maharashtra have dropped out of school. They thus lack the education needed to improve their own status and that of their communities—home to the poorest of the poor, the marginalized and deprived. With parents largely illiterate and placing no value on education, the children do not speak the official school language and have poor learning habits and no digital experience. The grant funds will finance teaching materials, digital equipment, and tutoring staff for supplementary classes for 60 tribal children (ages 7–15) for ten hours each week over one school year. Many classes will be held in a kindergarten building previously funded by a FAWCO Foundation DG. The children will learn the basic skills needed to keep them in school and continue their education, empowering them to break the poverty cycle and ensure socio-educational sustainability of their communities.
Educating Women & Girls Worldwide $4000
Sponsored in part by Renuka Matthews.
For programs specifically aimed at women and/or girls.
Recipient: MaaSAE Girls Secondary School, Monduli, Tanzania

Education is one of the most effective interventions for poverty alleviation, particularly for girls. However, most Maasai girls never get the chance to attend school. Fewer than 20 percent of Maasai girls enroll in school. Only one in five finish primary school, and only one in 15 proceed to secondary school. Dropouts are caused by early pregnancies, forced marriages, female genital mutilation, and other economic and cultural factors. Maasai leaders established the MaaSAE Girls Secondary School in 1995 to provide a safe and supportive educational environment for these at-risk girls. The school focuses on education as a tool of empowerment that allows young Maasai women to escape the bonds of poverty and gender-based violence. The grant funds will finance three scholarships for Maasai girls who would not otherwise have access to education and would also provide reproductive and menstrual health education to 380 students at the MaaSAE Girls Secondary School in Tanzania
Pam Dahlgren Educating Africa's Children.
For programs specifically in the geographical area of Africa. This will be awarded to the Africa-focused nominated project which receives the most votes.
Recipient: Each One, Teach One: Safe Spaces Library's Girls Reading Clubs, Eastland Slums, Nairobi, Kenya
When Covid-19 closed schools, Safe Spaces, which runs girls' empowerment programs in Nairobi's Eastland Slums, launched a library with computers and a librarian, enabling 800 girls and 200 boys to learn remotely. Our project's goal is Pioneer a Reading Culture in the slums through Girls Reading Clubs. Safe Spaces identified 90 girls who are passionate learners and capable of mentoring to be Reading Club participants. They'll meet 3 hours/week in the library for computer-based reading and research assignments, present to each other and journal what they learn. They'll develop confidence in public speaking and debating along with reading, researching, mentoring and organizing skills. Guest facilitators will expose the girls to the world beyond the slums. "Each one, teach one" will impact the community through the librarian who will train teachers in 10 schools on computers and Reading Club girls will mentor other community members. The grant funds will fund the Librarian and Girls Reading Clubs.
ENVIRONMENT
Trees Glorious Trees
Sponsored in part by AWC Amsterdam, AIWC Cologne and Friends of the Environment
Recipient: Regreening Degraded Land in Rural India, Khoch village in Mokhada Taluka, Palghar District, Maharashtra, India

Desertified land in rural areas of Maharashtra, India, is home to many tribals who are among the poorest people in the world. Forced to migrate seasonally for work, they are deprived of healthcare, education, stability, and hope. Restoring life to their degraded land is the foundation needed to bring about change. The grant funds will finance 1200 cashew trees for the Khoch tribal hamlet with 27 families (around 145 people) to plant on 110 acres under watershed development. The trees will prevent soil erosion and help "catch the rain" to regreen the land (SDG 15.3). The trees will also provide a harvest for income, which will stop migration and greatly improve the lives of the tribal families (SDG 3), whose women and men will participate equally in decision making, planning, and planting (SDG 5.5). The final reward will be long-lasting prosperity for the Khoch tribals through ecologically and socio-economically sustainable changes.
AWG Paris Centennial Environmental Development Grant
Recipient: Trash Hero World, 171 chapters in 20 countries around the world

Trash Hero creates sustainable, community-based projects that clean and reduce waste. Currently operating 171 projects across 20 countries (Indonesia, Thailand, Myanmar, Malaysia, Vietnam, Singapore, Switzerland, Czech Republic, Poland, Romania, Serbia, Slovakia, Georgia, Germany, Netherlands, Kuwait, Cambodia, Japan, USA and Australia.), weekly cleanups allow people to gain an understanding of the waste problem in a hands-on way. Based on the thousands of cleanups that have already taken place, we know what the impact of the money donated is. With the grant funds, 47 cleanups will be organized with up to 847 participants helping to clean the environment of plastic and other waste, while also receiving environmental education. The participants are all volunteers; the money will be used primarily for chapter leader training (travel expenses, so that poorer people can also participate) and the production of children's books (incl. prize giveaways such as Trash Hero T-shirts), so that Trash Hero communities are able to provide proper education and meaningful cleanups.
Global Issues
Close to Home
Sponsored in part by donations to the "From the Heart" program
Recipient: Healing through Art for Vulnerable Children in Lebanon, Beirut, Lebanon
Following a very traumatic 2020 that saw the port of Beirut explosion, many of Ayadina's young students who come from poor families, exhibited symptoms of post-traumatic stress. For most of the past two years they have been locked up at home and are experiencing their families struggling financially. The project is to incorporate art therapy methodologies in Ayadina's visual arts classes helping the children heal through art. A certified art therapist will mentor two visual arts teachers who will share their knowledge with colleagues, ensuring project sustainability. The therapist will evaluate the students at the beginning of the project to identify core issues to be addressed. She will assess the impact of the project throughout the year, with a final evaluation and a report at the end. The grant funds will allow the art therapist's 12-month compensation including mentoring, assessing, evaluating and submitting a final report.
Health
Critical Health Concerns
Sponsored by Anne Riz, AWC Bern in memory of Jack and Letha Sandweiss
Recipient: Re-edition and Distribution of the game "Relations & Prevention", France and francophone countries worldwide
The game, "Relations et Prevention," was developed by Gynecologists Without Borders in order to provide a meaningful form of education, specifically relating to emotional relationships, contraception, and sexually-transmitted disease. The targeted female population is primarily at-risk adolescents and young adults; those living in halfway houses, refugee/migrant camps, detention centers, and women everywhere in precarious situations. Unplanned pregnancies, rape, incest, and domestic violence are the primary issues addressed by this tool. The players find the game amusing and learn from it, and its use has resulted in enormous success. Results have been measured by evaluating typical sexual health parameters, as well as statistical analysis of gender-based violence reports. An initial publication of 1200 games has been fully utilized, and the grant funds would allow a re-issuing of over a hundred editions, potentially being played by and teaching several thousand women at risk and in danger.
HUMAN RIGHTS
Breaking the Cycle
Sponsored in part by proceeds from the sale of the book "Hope is the Thing With Feathers"
Recipient: Dignita 'Train the Trainer' Academy, Amsterdam, Netherlands
Not For Sale creates new opportunities for survivors of human trafficking and vulnerable women at risk of exploitation. NFS offers vocational training and the opportunity to gain work experience in the social enterprise The grant funds will allow Dignita NFS to expand its reach and maximize its impact by creating a professional training program to train staff as certified teachers. This will result in positive outcomes: the teaching skills of trainers will improve thus ensuring the best training possible; with the certification, our restaurants will become recognized training institutions from which trainees will receive official diplomas while improving their self-esteem and job opportunities; staff members who are former survivors/trainees will become teachers which will inspire and empower other survivors/ trainees and demonstrate it is possible for them to one day become teachers themselves. By starting with 4 certified trainers we will reach 50-60 survivors/trainees each year and those numbers will continue to grow.
FAUSA Effecting Change for Women and Children at Risk
Recipient: Empowering Community Health Workers in a Haitian Shantytown, Cité de Soleil, Haiti
The Lamp's Community Health Workers operate a "feet on the ground" support system in Cité Soleil, a shantytown of 35,000 controlled by gangs, with no electricity, sanitation or plumbing. The Lamp's health center, established in 2006, is the only healthcare available to these people. For the past 6 years, locally trained workers with the ability to move about the community unhindered, have been visiting each household. The grant funds will supply them with essentials for these visits that provide malnutrition screenings, (that is supported by our nutrition program0, pre and post-natal care, competent first aid and ongoing health education. They also aid in safe passage to the health center for care by the professional staff. They are the trusted link between the community and the clinic. The grant funds will provide the equipment to aid these workers in these tasks and the supplies needed to support this care for one year. Additionally, it will furnish available space for counseling.