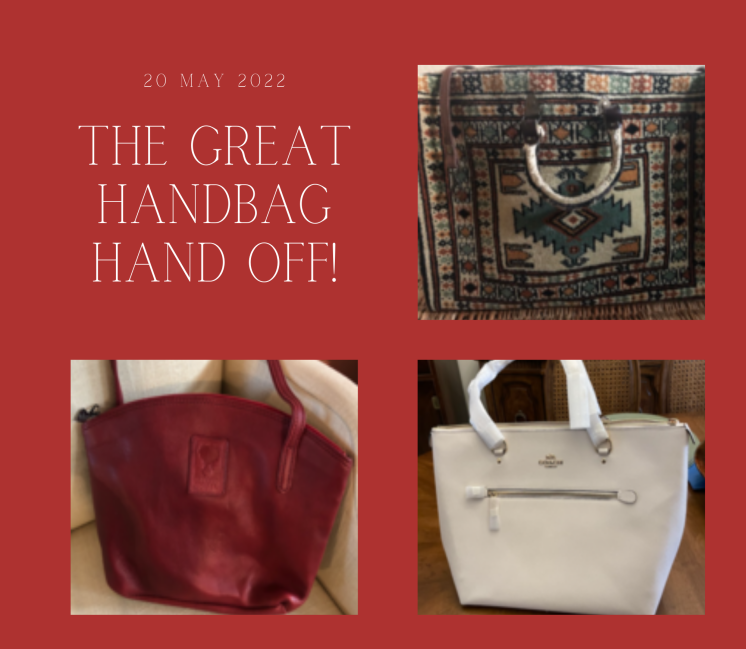 Welcome to the 2022 FAWCO Foundation Handbag Hand Off.
The Foundation, FAUSA and FAWCO have generously donated handbags to the 2022 Silent Auction.
The FAWCO Foundation offers a beautiful Backing Women leather tote! Filled with goodies such as a Luxembourg IM charm, a S.A.F.E. charm, a tea towel printed with pictures from previous quilts, soaps and Backing Women earrings, you won't want to miss your chance for this fashionable purchase!
A vintage Syrian carpet bag has been donated by FAUSA that is filled with goodies from the US (think chocolate chips, brown sugar and more!), this international bag is a triple threat of fashion, fun and food. Don't miss the opportunity to be its proud owner!
FAWCO has put forward a mint condition Coach purse! Starting with an SDG pin and ending with a mystery, this beautiful bag will be brimming with goodies. You won't want to miss the chance to bid on this stylish cornucopia of delight!
Make sure to register on Onecause to view these amazing handbags, all the Silent Auction Items, purchase charms and Friendship Quilt raffle tickets.
https://one.bidpal.net/luxembourgcelebration/welcome