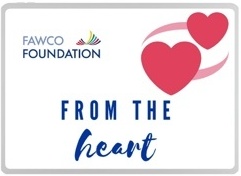 Introducing The FAWCO Foundation's newest initiative: From The Heart
A chance to recognize a special person, moment or event in your life such as:
♥ Graduation
♥ Special birthday
♥ Loss of a loved one
♥ Honoring a friend
♥ Giving thanks
♥ Whatever is near and dear to you
Donations will be used to help fund the 2023 Close to Home Development Grant.
IT'S EASY! Just follow the instructions on the Jotform.
If you have any questions, contact Lauren M. This email address is being protected from spambots. You need JavaScript enabled to view it..
A Donation Has Been Made...
In celebration of the life of Maureen G. Beals with love from her FAWCO Friends.
By Barbara Bühling in loving memory of her mother Joy Ward.
Thanks to Julia R-B. (AWC Hamburg) for the much appreciated workouts in the May 2021 Challenge!
To Angie with hugs from your Foundation "peeps"!
In recognition of the courage and determination of AIWC Düsseldorf member Yvonne Koch with love from her friends.
With thanks for FAWCO friendships by Barbara Bühling
by Tracy Moede in recognition of her mother, Joyce McGhee, who celebrated her 80th birthday in 2020.
In memory of Rhonda Staudt, may she rest in peace by Laurie Richardson
Thank You To Our Donors.