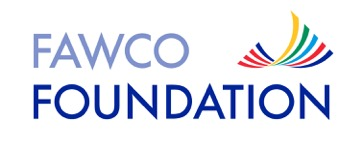 Dear FAWCO Foundation Friends,
We know you have all been on a rollercoaster ride of late, and we want you to know your FAWCO Foundation Board and the Foundation Night volunteers have been right there with you. We have gone from intense planning of Foundation Night in Luxembourg to the apprehension and fear of the coming pandemic to the pandemic itself. The difficult decision made by the FAWCO Board to cancel the IM left The Foundation in a quandary on how to move forward with fundraising. This was followed by the euphoria of the success of the Virtual Live Auction on Facebook and our heartfelt appreciation for the generosity and fun-loving spirit of all of our FAWCO members.
Despite the emotions high and low, we try to stay the course as we navigate through family crises, our own health concerns and financial hardships. As we keep moving forward, we also endeavor to maintain a sense of normalcy, and for many of us that includes continuing our philanthropic work and our commitment to our donors and beneficiaries.
There are challenging times ahead on so many fronts as we all adjust to a changing world. The need to support women and girls will only increase, while our ability to fundraise, and method of doing so, must be reassessed and approached cognizantly. As we find our way, please understand that we, too, are facing a new dynamic and trying our best to balance what our members may be going through with our desire to support our beneficiaries and meet our obligations. We recognize that we still have a commitment to our donors and beneficiaries to continue our planned funding for Development Grants and Education Awards for the next year. The request in this message is part of that new plan.
Don't you still love surprises? The excitement of receiving a package left at the door or a gift in the mail, especially when we have all been self-isolating, is what we want to do for you.
If you would like to make a donation, of any size, to the General Fund of the Foundation, you can do so by going online to https://www.fawcofoundation.org/ways-of-giving/how-to-donate
To say thank you, and hopefully bring a smile to your face one day, we will send you a sash celebrating women's right to vote. On Election Day, you can wear it to vote or you can hang it on your wall as a reminder of our achievements!
For those who donate $/€50 or more, we will put your name in a "hat." The names drawn will receive some of the amazing suffragette swag collected prior to the Luxembourg IM.
Thank you in advance for your understanding and for your continued support. Any and all donations are greatly appreciated, and we are confident that as we join together, we will continue to make the world a better place.
We hope that you and your family are well, and we wish you all the best in the coming months.
Sincerely,
The FAWCO Foundation Board