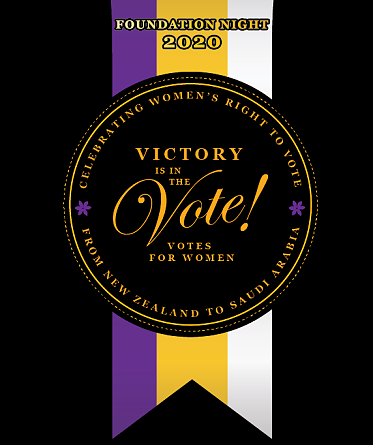 FOUNDATION NIGHT 2020 IS COMING!
Help us celebrate the hard-fought right to vote for women. While this year the US celebrates 100 years, many countries won that right well before, including New Zealand and Finland among others. And many after 1920. For example, in the US, African American women did not gain that right until The Voting Rights Act of 1965 and let's not forget that all overseas Americans (men and women) were granted the right in 1986!
We are still not finished…women in Saudi gained the right in 2015 and then only in municipal elections; many women are prohibited by religious customs from voting; many are subjected to physical violence if they try to vote.
But now is the time to celebrate our right to vote and in that way we honor our foremothers and preserve the future for our children.
Let us not forget that our goal on Foundation Night is to raise money to support the programs of The Foundation. So how are we going to celebrate and fundraise?!
Live Auction: We have 12 amazing trips up for auction, from Moscow to Morocco!
Not So Silent Auction: We are looking forward to your donations…they must be registered before the IM!
Ballot Boxes: For just 5 Euros or Dollars, you can march to the ballot boxes, buy one and get the surprise inside!
High End Raffle: stay tuned for more information
Be a Benefactor! For donations from $50 to $500, you will receive gifts that you can wear proudly on Foundation Night, from suffragette buttons to rosettes!
Costumes: It would not be a Foundation Night without costumes…come dressed as your favorite suffragette, whether you want to be Susan B. Anthony or Mrs. Banks from Mary Poppins, feel free! And don't forget, the suffragettes not only wore purple, green and white (UK) or purple, yellow and white (US), they also wore colors to represent their professions- Social workers wore dark blue, educators and students wore green, writers wore white and purple, and artists wore pale rose.
And if you don't want to wear a costume, come dressed as you are and purchase one of our ready-made sashes, with slogans already on them!
Charms: Our charms are already here waiting for your purchase with the slogan "Victory is in the Vote!". It's not too early to order them- email vpfundraising@fawcofoundation.org with the number that you want. Payments can be made as described on The Fawco Foundation website.
What you can do:
Tell us your stories: of how your mothers, grandmothers or great grandmothers influenced your interest in voting. Share photos and dates with us! Send to vpfundraising@fawcofoundation.org
A photo and video from each club with a sign showing the name of your club, the city if it is not evident from the name, the country and the year your country granted women the right to vote. Your reps hopefully are organizing this- check with them! Send to vpfundraising@fawcofoundation.org
So, get ready to celebrate our many victories which have come from voting! We will eat, drink and dance the night away on Saturday evening at the Luxembourg IM.
We look forward to seeing you and celebrating with you!
The Foundation Board
CAVEAT: Don't forget, we are not political--NO campaign buttons,t-shirts or hats!