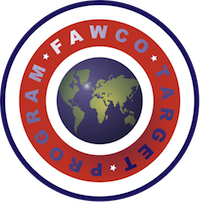 In March 2013, Human Rights for Women - Protecting the Rights and Improving the Lives of Women and Girls Worldwide, was announced as the overarching theme for the FAWCO Target Program 2013-2016. The Target Program was launched in 2009 to bring a critical global issue to the attention of FAWCO Clubs, their members and the world. The Target Education and Awareness segment focused on women's rights as human rights, specifically in the areas of political empowerment, economic empowerment, peace and security, and ending violence against women.
Member Clubs selected Free The Girls: providing Economic Opportunity for Survivors of Human Trafficking as the Target Project. The two-year fundraising campaign culminated February 28, 2016. At the FAWCO Interim Meeting held in Frankfurt on March 12, 2016, the FAWCO Foundation Fundraising Coordinator, Marie Benedicte Luxem, announced contributions totaling $172,000, with participation across every region of the organization.
FAWCOs financial support has provided Free The Girls the opportunity to lay the foundation for future success by allowing them to fine-tune staff positions and provide much needed space for streamlined, efficient operation. Free The Girls Executive Director, Courtney Skiera-Vaugh, stated that Free The Girls is forever grateful to the members of FAWCO for the financial support which allowed them much needed breathing room as a start-up nonprofit in their annual report. She went on to say that Free The Girls now has the time and resources to more fully focus on what they are really about - the women they service through their program - and they have already witnessed a significant rise in socioeconomic status across all three of their program locations over the past year.