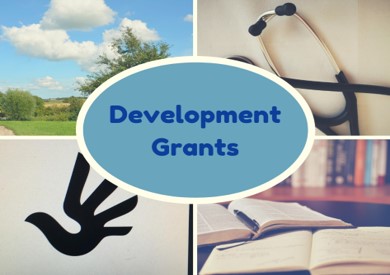 EDUCATION
AW of Surrey Hope Through Education $5000
Recipient: Hope Schools Library - East London South Africa (Nominated by AWC Antwerp)
Hope Schools caters to children infected, affected and/or orphaned by HIV/AIDS. Hope Schools would like to develop a classroom into a much-needed library in order to advance our reading program. The Grant will assist in the purchase of vital construction materials, as well as books and stationery that will make this project possible. As part of our Skills Development program, we want to train all 39 of our High School girls (ages 14 – 17) in carpentry skills (designing and building of the shelving for the library) and in sewing skills (designing and making the cushions for the "reading for pleasure corner.") The DG funds will provide the opportunity to equip and empower our girls to become skilled members of their community.
Educating Women & Girls Worldwide, sponsored in part by Renuka Matthews $5,000
Recipient: The Kiran Anjali Project Gender-Equality Curriculum - Slums of Bangalore, Delhi, Hyderabad, and Secunderabad India (Nominated by AWC Amsterdam)

The preference for a male child over a female child is deeply entrenched in India. As of 2019, there are 70 villages where girls have not been born in the last ten years. The rape vulnerability is twice of what it was 17 years ago. Boys have to be part of the conversation and the solution. It is our goal to start gender equality teachings in pre-school so that the education becomes as normative as math and science. A pre-school has been identified for the pilot. The DG funds will be used to work with scholars and educators to develop a gender-equality curriculum that starts at age 3 and addresses specific cultural issues and norms faced by the children living in the slums of India.
Pam Dahlgren Educating Africa's Children $5000
Recipient: Water and Sanitation for New White House Academy Students - Voi, Kenya
(Nominated by AWC Bern)
A toilet is not just a toilet. It is a lifesaver, dignity-protector and opportunity-maker. Whoever you are, wherever you are, sanitation is your human right. The DG funds will provide 8 toilets and a safe, clean solution that will serve the school and community for generations to come. The construction and installation of a sanitation system at the New White House Academy School will foster appropriate hygienic behavior, decreasing the spread of disease. The new toilets and sanitation system will promote gender-neutral division of hygiene-related tasks such as cleaning toilets, fetching and boiling water and taking care of school property. In addition, the ongoing management of a clean wastewater solution will develop skills that can be transferred to other schools and community plans.
ENVIRONMENT
Nurturing Our Planet $5000
Recipient: Trees for Sustainability - Four hamlets (Banderechiwadi, Bhetwadi, Pardhyachi-met, and Jambhlichapada) in Mokhada Taluka, Palghar District, Maharashtra, India (Nominated by AWC Hamburg)

Seasonal migration for work from rural to urban areas in Maharashtra, India is a survival strategy for tribal households, amongst the poorest in the world. The region's semi-arid topography allows for one crop during the monsoon and forces families to migrate in the dry season. Migration deprives the households of hope, stability, healthcare, and education—leading to depression, malnutrition, alcoholism, and a bleak future. Building on the success of the Nandanvan watershed "Catching the Rain" in a mountainous region of Maharashtra, the DG funds will support the planting of 1500 cashew trees on 40 acres. The trees will provide a second crop for cash income for 40 households (235 persons), stopping the devastating migration, and ensure ecological sustainability of the watershed for future generations.
GLOBAL ISSUES
Close to Home $5,000

Recipient: Sexual Life Kit Project – Comuna 6, Soacha, Cundinamarca, Colombia (Nominated by AWC Bogotá)
Lack of access to sexual and reproductive health care is a major factor in adolescent pregnancies and genital diseases, stunting the girl's education and economic opportunities. The municipality of Soacha is one of the worst in Colombia, accounting for 22% of girls ages 10-19 giving birth. Sexual Life Kit Project will serve the entire population (children, youth, and their families) of Fundación Proyecto de Vida's site in Comuna 6, Soacha, (Cundinamarca, Colombia) with comprehensive sexual and reproductive health care through a day clinic and a follow up visit. It will offer contraception options (IUD, hormonal injection, and condoms), genital disease testing (Pap smear and HIV), and education services. The DG funds will help reach 450 participants, which will cover the costs of the contraceptives and the tests.
HEALTH
Critical Health Concerns $5000
Recipient: 1 Million in Mind – Kenya (Nominated by: AWC The Hague)
1 Million in Mind is a project which seeks to create sustainable change through improving case management and counselling support with a focus on providing critical training to improve referrals, health (including mental health) and well-being. The DG funds will help hire a lead Counsellor in collaboration with the Department of Children's Services, the Ministry of Health, and the Office of the Governor, the grant will allow Stahili Foundation to further develop training materials and provide technical assistance through training. This will build the capacity, skills, and knowledge of health and social service professionals and paraprofessionals to sustainably support and promote the health and well-being of children throughout Murang'a County, which is home to 1 million people, more than half of which are children.
HUMAN RIGHTS
Safe Haven, sponsored in part by the family and friends of Louise Greeley-Copley $5000
Recipient: The Bridge2Hope Academy - Amsterdam, The Netherlands (Nominated by AWC The Hague)

The Bridge2Hope Foundation provides social services to undocumented victims of human trafficking. Most undocumented victims were smuggled as children into the Netherlands under false pretenses and have been sexually abused and criminally exploited for decades. Bridge2Hope stands for Advocacy, Research, and Training. Our Academy is unique because we combine social field expertise with behavioral science research. We use a group mentoring method to stabilize, rehabilitate and reintegrate sexually exploited victims. The DG funds will provide physical, psychosocial and medical support for stabilization. In this phase, we create a safe space in the community to gain victim trust needed to recover from psychological traumas. Attention is focused on the benefits of regular attendance and nutrition. Our motto is 'no psychotherapy on an empty stomach.'
Breaking the Cycle Sponsored in part by AW Eastern Province $5000
Recipient: Veronica's Voice: Magdalene KC, A Just Cause - Kansas City, Kansas (Nominated by FAUSA)
Veronica's Voice residential program, Magdalene KC, provides women the sanctuary they need to focus on deep healing and next steps when in recovery from abuse, violence, sex trafficking and addiction. The program provides women exiting 'the life' up to two years of free transitional housing, food, and basic necessities in a supportive, non-judgmental environment. Its social enterprise, A Just Cause, provides opportunities to residents to gain job skills through the development, marketing and sales of various products. The DG funds will be used for job skills training for survivor leaders and residents and for support and expenses for survivor residents. The results from receiving this grant will be greatly felt as each woman develops a healthy safety net, achieves gainful employment, and gives back to her community.
FAUSA Effecting Change For Women and Children at Risk $5000
Recipient: Karikal - The Right to a Better Life, India (Nominated by AWG Languedoc-Roussillon)
In India, it is common for men to remain with their parents after marriage, but a widow or abandoned wife is often rejected by her husband's family for financial reasons. This project aids these marginalized women and children by helping to pay for schooling, health care, food, and accommodations, as well as helping the mothers to find jobs. Schooling in anglophone establishments for higher education is a priority. Without an anglophone education, it is difficult to find a good job, particularly in public service, commerce and tourism, but anglophone schools are costly. The DG funds would fund scholarships, particularly for girls, who are often rejected by the system. The scholarships would enable them to attend anglophone universities and would open the gate to a better life.
A very heartfelt CONGRATULATIONS to all of our 2020 Development Grant recipients!
Is your Club considering nominating a project for a 2021 Development Grant? Consult the Timeline below for tips on efficient and timely completion of your Development Grant application.