2018 Development Grant Recipients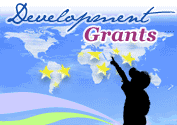 EDUCATION
AW of Surrey Hope Through Education
Recipient: Butiama Safe House Vocational Training Center - Serengeti, Tanzania

The Development Grant will help 22 girls who have fled Female Genital Mutilation (FGM) receive vocational and entrepreneurial training to empower them to their fullest economic potential. This safe house is commited to fighting FGM and other forms of gender-based violence and saving young girls from forced marriages. The girls gain business experience by selling products they have made with their newly acquired skills while receiving Human Rights training.
AWC The Hague Creating Better Futures
Recipient: Kitchen for Rural Kenyan Catering Program - Chepkanga, Kenya

The Development Grant will provide funding to Rafiki Ya Maisha, an NGO that raises money for two schools in Kenya. The funds will be used to construct a teaching kitchen at Sergoek Vocational Training Center in Chepkanga. A proper kitchen will help improve professionalism as well as the self-esteem of the students.
Pam Dahlgren Educating Africa's Children
Recipient: #Reboot Computer Literacy - A Safe Spaces Project - Nairobi, Kenya

#Reboot is an empowerment project for young women in Nairobi's Eastland Slums. Today, IT skills are a core competency necessary to succeed in most careers. In the Eastland Slums, girls have no access to computers at home. Project #Reboot will fill this gap by teaching girls computer skills and developing their critical thinking ability. The DG will empower girls by funding a project manager, computers, curriculum and students' transportation to #Reboot classes.
ENVIRONMENT

Nurturing Our Planet
Recipient: Hazarwadi Open Well - Maharashtra, India

The Indian Watershed Program has successfully used watershed development ("catching the rain") in desert areas of Maharashtra, India to restore the environment, replenish the groundwater that can feed open wells, and improve the lives of the tribal inhabitants, the poorest people in the lowest part of Indian society. The Development Grant will finance the construction of an open well in a rural hamlet of 14 tribal families who have insufficient access to water. Better health, better nutrition, a sustainable livelihood and access to eudcation will be the final rewards.
The Coughlan Family Foundation's Support In Sickness and Health
Recipient: Project WIN - Chiang Mai, Thailand

Protein in the diet of Thai hill tribe people is minimal. The DG will help improve the quality of nutrition of the local marginalized population as well as finance their education in self-sufficient production and increasing dietary protein. This will be accomplished through hands-on training in four different iniatives: raising chickens, building a fish pond for sustainable fish-farming, growing mushrooms, and developing and growing chemical-free vegetable gardens.
Critical Health Concerns Sponsored in part by Renuka Mathews
Recipient: Ending TB in North Korea - Pyongsong Sanitorium, North Korea
TB is the #1 infectious killer in the world. Tuberculosis and drug-resistant tuberculosis are endemic to North Korea and ravage a vulnerable population already suffering from malnutrition. The Development Grant will pay for N-95 respirators, nutritional support and immunomodulation that will cut TB transmission, increase treatment success rates and reduce post-treatment relapse and reinfection rates. By cutting the relapse and reinfection rate, vulnerable caregivers in the home will also be protected.
HUMAN RIGHTS
Breaking the Cycle Sponsored in part by AILO Florence and AW Eastern Province
Recipient: Feed the Starving Rohingyas - Bangladesh
Since the Myanmar military started ethnic cleansing in 2017, approximately one million Rohingyas have fled to Bangladesh, creasting a massive humanitarian disaster. New refugees, mostly women and children, arrive daily after walking for days through the jungle. Refugees desperately need food, water, clothing and medical care. The project will provide the newly arrived Rohingya with dry food packs, each containing a tin container of basic food staples. The Development Grant will directly benefit 400 families - 2800 refugees - providing food and water.
FAUSA Effecting Change For Women and Children at Risk

Recipient: The Pillow Project to Stop Child Trafficking - Murang'a County, Kenya
Most children living in orphanages in Kenya have family who cannot care for them because of poverty. Families are often tricked into giving up their children under the false promise of food and education. In reality, children are trafficked and exploited so that orphanage operators receive donations. The DG will allow The Pillow Project to Stop Child Trafficking to provide beds, sheets and pillows for 31 children who have been trafficked.
A very heartfelt CONGRATULATIONS to all of our Development Grant recipients!
Is your Club considering nominating a project for a 2019 Development Grant? Consult the Timeline below for tips on efficient and timely completion of your Development Grant application.