The FAWCO
Target Water Project
What is the Target Water Project?
It is an intense effort on behalf of FAWCO clubs and individuals to educate, raise awareness and fund raise towards improving access to safe drinking water. The FAWCO Target Project is an important part of FAWCO´s commitment as a recognized NGO at the UN to support the UN Millennium Development Goals. In November of 2010, Tabitha - Cambodia, Wells for Clean Water was selected by FAWCO clubs as the recipient organization of the projects fund raising efforts.

The final report for the Target Water Project was given at the recent FAWCO conference in Bern.
Final tally: 54 of the 73 FAWCO clubs participated in fundraising, $135,255 was raised for Cambodia and another $27,355 for other water projects.
So the final total is $162,590 for clean water!!!!
Over 1500 families now have clean water thanks to our efforts.

As most of you realize, the Target Water Project officially ended on December 31, 2012. Donations will be accepted until February 15th, however, so there is still a small window of opportunity to contribute from your club - or yourself - to the Target Project in Cambodia. (Please see below in Fundraising for details of how to get your Target donation to the FAWCO Foundation.) You can find the latest donation amount as well as the number of wells dug to date below as well, but since Target donations are still coming in, this is NOT the final number of wells.
While it is a bit late in the game to plan a fundraiser for the Target Project, a small raffle or collection at your January or February club meeting might still be a possibility. At any rate, the FAWCO Foundation handles all Target donations and money can be transferred in one in the following ways:
For the Foundation, and usually you, the cheapest method is a US dollar check drawn on a US bank. The check should be made payable to FAWCO Foundation and can be mailed to the Treasurer at the following address: FAWCO Foundation, c/o Kathy Coughlan, 433 S Ridge Rd (Do not substitute south for the S. The post office's sorting machine rejects South!), Lake Forest, Illinois - 60045, USA
If that is not possible then donating thru PayPal is a cheaper option then a wire transfer. (Please contact Kathy at

This e-mail address is being protected from spambots. You need JavaScript enabled to view it

for

more details on how to donate by PayPal.)

The third option is a wire transfer, but that is most expensive for you and for FAWCO. However, when other options are not possible the Foundation handles transfers this way. (You will need to get additional details for Kathy (at

This e-mail address is being protected from spambots. You need JavaScript enabled to view it

) for this option.)
Please be mindful of the February 15th deadline and send any remaining donations in a timely manner so they can be included in our final Target total!
Tabitha Update - Water- Sept 2012

Dear Friends and partners,
Today I would like to share the impact of water on our families. With a change of attitude through savings, a source of dependable water has the greatest impact on our families. What we mean by direct is that the water sources are installed for specific families because these families must be able to earn an income from the water  but - families in the community who do not have their own water source do have free access to the water for family use ? uses like taking baths, washing clothes, water for cooking and cleaning.
The impact on our families is immense, their spendable income changes dramatically from less than 50 cents a day to an average of $6000 USD per year ($16.00 per day). How is this done? For families who have land suitable for growing rice: the change is from growing rice just once a year to growing rice year round. When I visited our Takeo project a few weeks ago, I was stunned by the intelligence of our families. The families had an average of 2 hectares of land but the land was broken into various plots of differing sizes. What the families were doing was growing rice at different stages  when I arrived a number of plots were being harvested, in other plots the rice was half grown and in others they were just beginning to plant rice. The effect was amazing as our families were constantly harvesting and earning incomes every month from the rice they were growing. One lady, Theira, was so excited her eyes full of joy as she showed me her various plots being harvested that day; plots that were half grown and plots they were re-planting. But it is the men who make it so very clear the impact this has on their lives. A consistent comment from the men who stand proud and defiant before me is I bought my children back. I cannot begin to imagine under what circumstances so many of the men chose to sell their children  but I do know the circumstances that are bringing the children home. 10,356 of our families began growing rice year round this past program year.

For our families who have land that is not suitable for growing rice, growing vegetables of all kinds brings about change. Last week in our Kandal project I visited 60 hectares of newly grown vegetables. What a joy it was to see better yet how delicious the vegetables are to eat. The variety of vegetables is amazing, corn, tomatoes, lettuces of all kinds, it's the ones like Spanish onions, large green peppers and ginger that really surprises me. I never knew that Cambodia could grow such a wide variety of foods. 9,120 families were able to begin raising vegetables this past year.                    
For families whose land is not large enough to grow vegetables and rice for sale, the raising of animals takes a priority. This year, 11,382 families were able to start raising pigs, 14,896 families began raising chickens and ducks, and another 532 families started raising fish and frogs.  The ingenuity of some of our families always amazes me, raising crickets as an additional source of income gave me the shivers.

Janne



The FAWCO Water Project
Tabitha - Cambodia, WELLS FOR CLEAN WATER

About Tabitha Cambodia
Janne Ritskes founded Tabitha-Cambodia in 1994.   Activities centered in Cambodia, whose people were decimated by a regime that promoted enforced starvation, mass executions, slave labor and wholesale dislocation to such a degree that the social, moral and economic fiber of the country was left in tatters. From 1975 to 1979 the Khmer Rouge systematically killed an estimated two million Cambodians, almost a fourth of the country's population.
Tabitha's aim is to reach out to the despairing in their communities and enable them to address their needs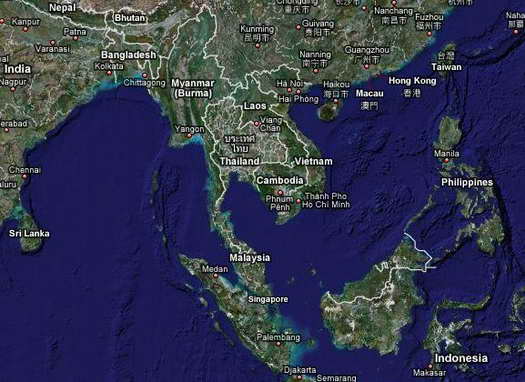 in a holistic and sustainable way, thereby transforming their lives.  Tabitha's current programs affect 1.6% of Cambodians, over 248,000 people in twelve provinces.  Since 1994 Tabitha has lifted more than half a million Cambodians out of poverty and despair, into lives of dignity, hope, and active participation in their communities.
Tabitha-Cambodia runs 4 major programs: Savings; Wells and Ponds; Volunteer House Building and Cottage Industry Crafts.  You can read more about these programs at http://www.tabitha.ca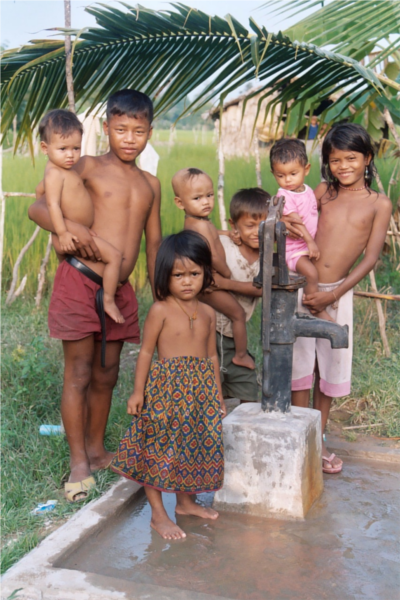 Tabitha Wells Program
The Tabitha Wells program runs in parallel to the "Family Development through Savings" program. Tabitha- Cambodia constructs, on average, 90 wells per month.  The majority of families enrolled in the Savings Program have no access to clean water.  The nearest source of clean water may be several kilometers away.

In the absence of safe wells, drinking water is taken from open ponds or rivers that are commonly polluted with excreta or chemicals.  Villagers, and most importantly children, often develop dysentery.

The impact of access to clean water through the installation of wells on families is immediate and significant. The first, very noticeable impact is the decrease in the incidence of diarrhea and skin infections in the families. Within weeks, children and adults had gained weight; their skin tones and eyes lost that haunted, dry look and their ability to work increased by several hours a day.

The second, very noticeable impact is the increase in income and improvement in diet. All of the families receiving wells are required to earn an income from these wells. Income can be earned through animal husbandry – the raising of pigs, chickens, ducks; through the raising of fish and all families are required to grow vegetables and or rice – for small plots a kitchen garden is sufficient – for people owning larger plots – vegetables and rice are mandatory.
Types of Wells
Two types of family wells are used in Cambodia – the decision on which type will be used in an area depends on the type and quality of water available.

TUBE WELLS: A machine drills a pipe to reach the aquifer – usually 50-60 meters down. A hand pump is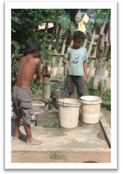 placed at the top of the pipe allowing water to be pumped to the surface. A cement apron is placed around the well.  Tube wells are used whenever possible, that is when good quality water can be found in deeper aquifers. They supply THREE families (24-30 people)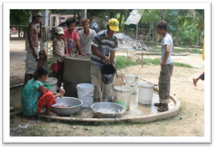 OPEN WELLS: The families dig a hole about 10-15 meters deep. Cement pipes are then used to keep the well open and rise more than 1 meter from the ground. Tops are placed over the well to prevent pollution and villagers are taught about correct sanitary well maintenance. Open wells are used when deeper water is brackish or polluted, preventing the use of tube wells. They supply THREE families. The cost of tube or open wells is approximately $150 per well.

FIELD WELLS: Deeper and wider than an open well, field wells provide clean water for both household use
and irrigation.  A field well allows families to grow crops year round on 4 hectares (10 acres) providing them with a steady income.   A field well is shared by TWO FAMILIES. A field well costs $250.

Maintenance:  Families are trained to maintain their wells in good working order.  The contractor is locally based, so can be called in to do major repairs if needed.
FAWCO Target Project Fundraising Goal
Tabitha-Cambodia feels that providing safe and reliable water is a vital part of family and community development. The three families provide $30 towards the cost of each well via The Savings Program.  The balance comes from donations to Tabitha.

FAWCO's goal is to raise $80,000 towards the Wells for Clean Water program administered by Tabitha-Cambodia over a two-year period.

Learn More

Further information about Tabitha-Cambodia and its programs can be found at www.tabitha.ca
Email Yolanda Henry at This e-mail address is being protected from spambots. You need JavaScript enabled to view it
We encourage FAWCO clubs to channel their energies to support this important project by whatever means they can!  Remember, the more money we raise, the more wells we dig and the more people we help!
April 5, 2011
Dear friends and partners,

Happy Khmer New Years. Yes, we are fortunate here in Cambodia, we get to celebrate several New Years but for us, this is the best one. Next week, we close for a whole week; everyone goes home to celebrate with family and friends the year that was and the year that is just beginning.

Of course with New Year approaching it is also traditional to clean your house in preparation for the celebrations at hand. Tabitha cleaned its house metaphorically. We changed to a new and better system of handling our finances – we went cashless. Now for those of you living in developed countries, this may sound rather ho hum but in a third world country – a cashless system brings about all kinds of emotions - from great fear to happiness.

Over the past two years, The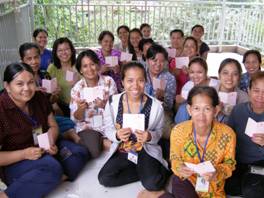 ACELEDA Bank in Cambodia has opened branches in almost every district of the country. When we talked, they assured us that they can handle all our cash transactions. That was the easy part. Over a period two weeks, we opened almost five hundred accounts. It started at the office with staff and workers. My explanation of what was happening was met with disbelief until I explained that they no longer had to be afraid of where they kept their money. The next two days were filled with questions like; can my children get my money? Will the bank give my money to someone else by accident? Lots of assurances and explanations later, the banks arrived to enroll everyone – staff arrived from up country, workers milled around the office, weavers filled the corridors. Then the inevitable happened – the electricity went out – the generators went on but not with enough power to keep everyone cool. The bank employees sat in two different rooms, each group handling three people at a time. Of course, those awaiting their turn, crowded in to see what those who were being enrolled were doing. I was feeling a bit sorry for myself with all the mayhem but when I saw what was happening to the bank workers, my pity for myself g
ot displaced very quickly to those who were handling the applications.

I restored a bit of order but mayhem quickly developed again as it became clear that most of our folks had an identity with a completely different name by which we knew them. This is a throwback to the Khmer Rouge regime where being known by your own name was never safe. Suddenly, none of us knew whom we are talking about. This took several days to clarify and make good.

The bank returned several days later with passbooks in hand but not all was well. We had several basically illiterate staff and workers – people who never signed their name before – people who didn't understand tha
t your signature had to be the same each time. One poor fellow had to return 4 days in a row to give his signature before everyone was happy. I just shuddered!

Once the immediate Tabitha people were taken care of – it was time to work with those who dug our wells, constructed our house frames, built our schools, merchants from who we purchased building supplies, etc. Mayhem reigned yet again – how these people kept such large sums of money safe before was a mystery to me – banks were a mystery to them.
Finally it was all in place and we tested the system. We did our first electronic payroll! The next day several hundred workers and staff descended on a small bank branch near the office. What a morning that was – thankfully, the bank staff were used to first time account holders – the noise decibels crept higher and higher and the laughter started. I looked at more bank books, laughed with more people and received more hugs in
those few hours than I have in the past ten years together. Happiness reigns and I am ready to take a holiday!

Yesterday, I went back to Prey Veng – back to see the results of the challenge of the field wells. What a magic day it was. I arrived in time to see the last of the harvest watermelons. 36 farmers had harvested in the past week – their average earnings was over a $1000.00 US dollars for two months work. It was the men – the men who were all there – men who normally had to work far from home – their pride, their joy was indescribable. And the children, the children were home. They all wanted to give us watermelons and more melons – and then there were the cows and water buffalo – it was a big day for them as well – they got to eat the leftover greenery – what a celebration! What a way to start the New Year.


We visited so many families, all with pride, and lots of children. The food sustainability – the income earned – none had made such money before. It is so good! Did they meet the challenge of 200 hectares – oh yes and a bit more. Then Pat and Cheoun turned to me and said, but we would like another 100 field wells – why not – 3 more villages waiting – let's do it.

I am so privileged – I thank my God for the lives that touch mine and the lives that I touch – I am humbled by all of you who make this possible. Happy New years to each of you – thank you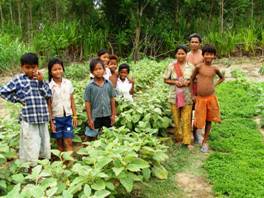 for making this New Year a happy one for so very many for whom New Years was formally a time of sadness. It is so very good!


Janne 

More About Cambodia...
The Pchum Ben Festival
Pchum Ben is equivalent to the Christian holiday of Christmas in significance for the people here. It is the time that Cambodians have to honor and remember their parents and grandparents who have passed away. There are very specific ceremonies that need to be completed in the 15 days prior to the actual Pchum Ben day itself. The belief is that people must honor their parents/grandparents by going to seven different pagodas and bringing gifts of food to the monks. On Pchum Ben day itself, everyone must bring a variety of cooked foods plus a variety of dry foods to the pagoda before 11 o'clock in the morning. At that time, all offerings must be completed and the monks sit down to eat.


The belief is that deceased parents sit down with the monks and eat the food as well. Why seven pagodas – basically, the parents are wandering souls and are looking to see if there children are honoring them – if they cannot find the offerings of their children, the souls of the parents become angry – and the children will suffer from nightmares and problems at home. A secondary problem is of course, the amount and variety of food a person brings. A small offering of just rice would not satisfy the hunger of the parents nor sustain them through out the year so pressure on families is immense.

For families in Tabitha programs, Pchum Ben becomes progressively easier as their incomes increase. When SokLee joined Tabitha 4 years ago, she lived in a small thatched home with her husband and seven children. During those years, we often talked with this family about getting a field well and using their land to better use. SokLee had lost all her family during the Khmer Rouge years – she met her husband who was also considered an orphan, the sole surviving member of his family. Over the 18 years of their marriage, bearing children was one of the few things they did well, sadly several of their babies died before they were a year old.  When I would ask them, why they didn't dare change their lives, SokLee would talk of being bad – she would re-iterate again and again, we are suffering because we are bad – I lost my family, my parents, my land, my right
to go to school, my right to earn a living, my right to be a Buddhist because of the Khmer Rouge.  My children die or are always sick.  I have bad dreams – my parents come to me and ask me why I am so bad. I cannot think anymore. I cannot do anymore.

Their home was small and decrepit – her husband was often away trying to earn money from jobs on the border – their children would go to bed hungry. Malnutrition is a disease that weakens the body and tires the soul. Encouraging this family, like so many others takes hours of talking.  Peuw, who is our project manager got increasingly frustrated with this family so last Pchum Ben, he took SokLee and her husband and 9 other family heads on a day trip to Tanong, - he did it by force – threatening dismissal from our programs unless they came and saw. In Tanong we have several hundred hectors of land under continuous use with vegetables and rice. Both groups met and talked and talked some more. They talked about being bad; they talked about being of no worth, of not being able to think anymore. They talked of the nightmares. Then our Tanong families talked about changes – about dreaming and thinking again – about working their land – about working together to make sure everyone did well. They talked about learning the markets and growing off season vegetables which results in more money for their crops. They talked about growing rice three times a year and never going hungry. The men talked of no longer needing to leave home to earn money for their families; they talked about the health of their children and the schools they are attending. They talked of the homes they have rebuilt and how good it all is. Then they talked about Pchum Ban, how the nightmares had gone and how their parents were at peace.

SokLee and her husband listened – and he did the unthinkable – he wanted a field well. It's been 10 months since that field well was installed. The change is remarkable – this family grows mushrooms, and cucumbers' and they make rice wine – their income has increased to $20 per day – each day. Unbelievable! But the biggest change is in them – SokLee and her husband laugh a lot – they are eager to have me come – they are eager to feed me good food, to show off their achievements, to brag about their children. They are eager to show me their neighbors and all that is going so well.
For so many families, Pchum Ben is no longer the feared holiday of the year. The nightmares are leaving, their parents are at peace.
Last Updated on Tuesday, 19 March 2013 16:32