About Us - At a Glance
The Foundation is the philanthropic arm of FAWCO
FAWCO is a network of over 75 clubs with 15,000 members in 39 countries
The Foundation supports the UN's MDGs, aiding projects throughout the world
We support education at all levels of ability and academic achievement
The Foundation is a 501(c)3 tax exempt entity. All donations are tax deductible
Your projects are our passion.

 
Why I'm Proud to be Involved
I first heard about FAWCO in 2003 through my local club, The American Women of the Eastern Province, Saudi Arabia. I remember half listening to Dianne Reed, our FAWCO Rep at the time, thinking
this sounds like an organization I want to be involved with
. I became the FAWCO Rep for my club in April 2004. I was excited since Dianne was taking over as Region 9 Coordinator and we would be working together to spread FAWCO Fever in the Middle East! Unfortunately Dianne's life changed that year because of a senseless act of terrorism. Because Dianne could not fulfill her commitment as Regional Coordinator, I assumed both positions as Rep and Coordinator. Needless to say, I had little idea of what was involved but received outstanding support and understanding from Kathleen Simon, 2nd VP at the time.
My first conference was 2005 and I left with a raging FAWCO Fever! The defining moment for me was the closing session of the conference when the membership voted overwhelmingly to support raising $75,000 by next conference for anti-malaria bed nets. I walked away thinking what an amazing group of women.

At the 2006 conference, I volunteered to review Development Grants for The Foundation the following year. All I can say is I was hooked after reading what these women proposed as ways to help those less fortunate. The projects our clubs are involved with are nothing short of amazing. The time and effort put forth brings "giving back" a whole new meaning.
I feel one of the things that contributes to the success of FAWCO is the different interests of the members. My interest lies with the Development Grants, and I was honored to be asked to be the Development Grant Program Administrator for 2008-2010. If there was a "Santa" I'd ask that all projects submitted be awarded a grant!
I agree with my friend Maria when she said "(B)e inspired as I was, and become a better person because of it." I know I am.
Beth Arena
Development Grants Program Administrator
AW Eastern Province
Become a Friend
Donate to The Foundation today
If you would like to become a Friend of The Foundation, you may donate online here via PayPal:
Welcome! We're so glad you're here...
About The FAWCO Foundation
FAWCO is a network of independent American and international volunteer organizations representing private-sector American citizens overseas. In 1967, FAWCO established a foundation to carry on its long tradition of donating to relief organizations, as well as providing educational support to members and their families. The Foundation's sole purpose is to put into action FAWCO's stated interest in the global community by specifically aiding charitable, scientific and educational programs and supporting the rights of women and children throughout the world. For over 40 years, The Foundation has stayed true to this purpose.
The FAWCO Foundation is the philanthropic arm of FAWCO. A six member Board of Directors, each a member of a FAWCO Member Club elected at FAWCO Interim Conferences, oversees the philanthropic efforts and endeavors of FAWCO. Incorporated in the State of Missouri as a not-for-profit corporation, direct donations are tax exempt in the U.S. to the full extent allowed.
The FAWCO Foundation Programs:
One Story of a Project and Passion with a Powerful Result
From an Education Grant to a Development Grant, the circle of giving

MaLinda Hill was a member of FAWCO Member Club AWC of Cologne and a very busy woman. She was a doctorial candidate majoring in Human Studies, preparing to complete her research for her thesis. In order to alleviate some of the financial burden associated with pursuing a degree of this magnitude, in 2001, she applied for and was awarded a FAWCO Foundation Ruth St. John Federation Award. In 2003, MaLinda began the research for her thesis. She was to evaluate the success the Kugeria Water Project, located in Kenya.



As she explains:

"In 1984, the Kenyan government began a project to build a water pipeline from the Kii River to the village of Murinduko. The project, which was originally run by men, failed because of political corruption, widespread misuse of water resources and infighting; farmers with large land holdings prospered while small landowners and needy families suffered. Now taken over by women, the Kugeria Women's Water Project (kugeria means "we shall try" in Kikuyu language) is one of the few privately run water management projects. It furnishes clean water to 260 families (over 2,800 people), is financially solvent and plans to extend services to another 60 families. The pipeline is 11 kilometers long and was built under such adverse condition as minimum government and private funding, difficult terrain, harsh climate, and personal financial problems. The pipeline has reduced the amount of time spent by women and children fetching water from the river, which is four kilometers away as well as reducing water-borne diseases. It has been a labor of love. The women crossed economic and educational barriers to come together and organize their ambitious project. One reason for its success is that the women have developed effective water usage regulations that they rigorously maintain. If someone breaks a regulation, which is known to everyone, the consequences are employed swiftly, a great step forward and an achievement in a country where many live hand-to-mouth and break rules in order to survive."

MaLinda's research took her to Murinduko where she met the women who ran the project. She observed firsthand how their determination and hard work led to the success of the project.
In 2005, AWC of Cologne nominated the Kugeria Women's Water Project for FAWCO Foundation Development Grant. The project was awarded the Skills for Life Development Grant.
The funding was used to help build a water tank involving young people in a vocational awareness project for water conservation. Since then the project has expanded to include a co-op for selling vegetables that they are now able to grow because of the access to clean, safe water.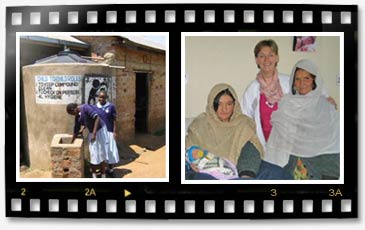 Development Grants

The FAWCO Foundation assists FAWCO and its network of over 75 member clubs by focusing their passion and commitment to aiding critical global concerns into philanthropic service:

From erecting new water tanks for an AIDS care facility in Kenya, to enabling women surgeons to learn new techniques to assist young mothers suffering from birthing related injuries in Afghanistan, The FAWCO Foundation Development Grants make an immediate impact.


In 2009, The Foundation awarded eight Development Grants each worth $4500 USD. Money for these grants is raised by The Foundation through sponsorships by member clubs' donations from individuals and fundraising events.


Since 1997, the Development Grants Program has aided 72 charitable projects in over 30 countries worldwide.

Education Awards
The FAWCO Foundation also supports education as the cornerstone of empowerment:

Each year The Foundation selects from worthy candidates studying in humanities, sciences and arts to receive The FAWCO Foundation
Education Awards
. We have aided over 150 children of FAWCO club members. Money for these awards is raised by The Foundation through sponsorships by FAWCO member clubs, donations from individuals, and fundraising events.

The FAWCO Foundation recognizes the need for improving international understanding by awarding a Dual Cultural Award.

To advance the education of those who learn differently, The FAWCO Foundation administers a Special Challenges Fund.

Two awards are available for members: an academic award for those who are pursuing an undergraduate or graduate degree, and a skills enhancement award for those who wish to acquire or improve skills in a non-academic setting.