Running for The Foundation!
AIWC Casablanca members to take part in the Marathon des Sables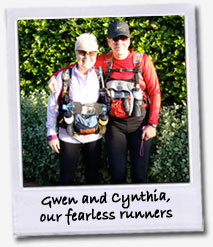 Gwen Dellar and Cynthia Smith-Ayed (AIWC Casablanca) have taken marathon running to the extreme!  On April 2nd they trekked into the desert, and on April 4th they embarked on a seven day marathon race covering 250 kilometers in the Sahara Desert.  The race is called "Marathon des Sables" and it is an unbelievable test of endurance.  Each participant carries their food and sleeping bag on their backs, race sponsors provide only water.

Cynthia and Gwen have offered to run on behalf of The FAWCO Foundation to help raise funds for the Member's Skills Enhancement Award.  The Foundation offers this Award to FAWCO club members who, "are acquiring new skills or enhancing existing ones".  The recipient may study in any country.  They will proudly feature a FAWCO Foundation patch that was specially made for the event.

If you want to salute this daring duo and their unbelievable journey, please make a donation using the PayPal button on the right of this page. Please be sure to state "Member's Skills Enhancement" or "Marathon des Sables" in the notes.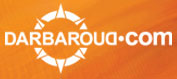 For more information about this amazing race, go to www.darbaroud.com Read about Cynthia (22) and Gwen's (21) progress in the race below. We congratulate them on their remarkable achievement!

Latest News: 
See Gwen's story and Cynthia's interview on the coverage of French TV5. Fast forward to about 30 seconds and you'll see the search parties and then Cynthia and Gwen's reunion! TV5Monde coverage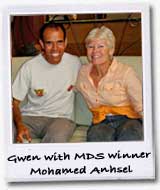 Tuesday: "Story is [that] Gwen set out on Friday for 42 km. Was exhausted and at the back, took a wrong turn and after 2 hrs when she didn't arrive a CP 2 she's realized she was lost. So she ate something got in the sleeping bag and spent the night alone in the desert!!!
Next morning she turned around and retraced her steps back towards where she thought she had made the wrong turn after CP1.
Meantime they told me Friday afternoon she hadn't reached CP2, they thought maybe the transponder that beeps when you cross the check points was faulty.

I sat 4 hours at the finish watching everyone else cross and the helicopters and jeeps going back and forth over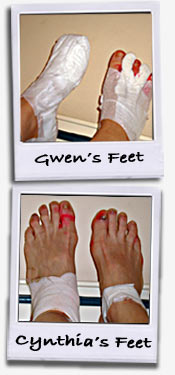 the route and at 9pm they said everyone but Gwen had come back to camp. They left the laser light on which shines several km from the finish down the road and I and both tents of team mates stayed awake most of night waiting for news. At 6:30 one of the officials came and said NO NEWS but the helicopters were back out and the local Bedouins had been searching all night along with the police and organizers.
I went over to breakfast and a woman mentioned that one of the good runners, a Jordanian had dropped out because of stomach issues BUT also cause he lost time taking a wrong term. Thank god I speak Arabic cause that's all he spoke. We determined that Gwen must have done the same thing. We told the officials and the head of the search checked the maps and 10 mins later the helicopter found her!! I'm sure they would have found her eventually cause she was going back towards CP 1 but hoping the info got her found earlier. Fortunately for everyone worried about her she returned 30 mins before the start of the last days race!!
She kept her calm and the reporters were AMAZED and how calm and logical she was about the whole situation. So our 10 mins of fame I guess.
Needless to say our husbands are not pleased with this misadventure and we have assured them we will go back to big city marathons only with lots of people and a hotel!!" -Cynthia 

Monday: "We are still in Ouarzazate and flying back to Casa[blanca] this evening...Gwen saw the docs yesterday and had her feet re-done and rebandaged: She's hobbling, literally, but each day it's better: We are still really tired and can't wait to get home to our own beds. Hotel really substandard also [but] considering where we were we are trying not to complain too much: After a week WITHOUT, a toilet, shower and bed are luxury."  -Cynthia

Gwen's Dramatic Stage 5, and a Rescue



On Friday, Gwen did not drop out of the race. After walking for 3 hours and 27 minutes, at 12:12 pm, she passed CP1 and kept going. She thought she was headed to CP 2... But, somewhere between CP 1 and 2, she took a wrong turn that sent her in a completely different direction. Confident of being on the right track, she kept going, only to realize hours later that she was LOST. Meanwhile, Cynthia waited for her at Stage 5 finish line, but Gwen never showed up.
Having no choice, Gwen spent the night by herself in the middle of nowhere. The stars above her were the sole companions.

After hours of search, Saturday morning the rescue team in helicopter finally found Gwen. According to AIWC Casablanca, she is safe and sound and we are looking forward to hearing about the unexpected turn in her participation at the Marathon des Sables. Our runners have spent a whole week in the Sahara Desert; tonight they'll finally enjoy the pleasure of taking a hot shower and sleeping in a comfortable bed.
We would like to salute their courage and welcome them home.
Saturday, 10 April: The End of the Race

Stage 6 : Erg Znaigui - Merzouga– 21.1 Km
See the Route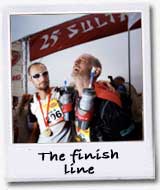 923 competitors set off this morning for the last stage of the Sultan Marathon des Sables with an idyllic finish line set at the foot of the Merzouga dunes. For many, the atmosphere was a mix of relief and nostalgia. Mohamad Ahansal (1, Mor) unsurprisingly won the stage in 2h13'55'', completing a perfect race, before Jordan competitor El Aqra (391), one of his most serious challengers - together with US runner Michale Wardian (698) – and fellow Moroccan Aït Amar (4). Amongts women, the top three competitors took it easier and didn't make it amongst the first three: the winner was Laurence Archambault (80, FR), with a 2h15'20 race.. She treated us to a sprint finish, in front of Alessia Bertolino (1 032, IT) 3'' behind and Luisa Balsamo (936, IT) 1'12'' behind. As to the general ranking, Monica Aguilera (1 020, Spain) wins over Dutch competitor Jolanda Linschooten (90) and Welsh runner Jen Salter (936). -Daraboud.com
We are still waiting to hear if Gwen completed the race. We'll update as soon as we know.

Friday, 9 April: Message from Cynthia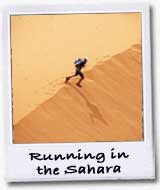 "Gwen finished yesterday (8 April, Stage 4) 1 hr before cut off. Took her 34 hrs including 5 hr sleep at a ck station. She was exhausted!! Got her tea, some dinner, helped her with a bath: one bottle of water and soap!! she was asleep at 7:30!! Today is the marathon: 42 km. Fast runners already in. Mohamed has stayed in 1st all week. An American is 3rd overall and the Brit James who won a gold medal in rowing has stayed in top 10 all week. A spanish woman is first cause the Moroccan woman was flown out ill the 2nd day. Tomorrow is half marathon distance but over Merzouga Dunes. I saw them as we were driving to the camp. Suggest you try to look them up- impressive!! After the race about 5 hr bus ride back to Ourzazate and Jihane will give us back our phones tomorrow night. We return late Monday night to Casa. I am really bummed I couldnt finish but glad to help the 2 tents of friends: old & new to finish. Hope to be at finish to see them all cross.
Love,Cynthia"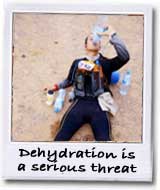 Stage 5: Oued El Jdaid - Znaiguisur 42.2 km
See the Route

At 12 am, temperature : 31.1°C. Number of competitors who pulled out during stage 4 : 30. From Daraboud.com: The famous long heat came to a close last night when the last two competitors got to the finish line, after nearly 34 hours on the track. The 926 competitors still in the race for this 25th Sultan Marathon des Sables have 42.2 km to run from Oued El Jdaid to Znaiguisur to complete the 5th and penultimate stage. As usual, both leaders in the general ranking were true to their reputation. On the men's side, Mohamad Ahansal (1, Morocco) completed the stage nearly 9 minutes before of El Aqra (391, Jordan) and 19 minutes before his countryman Ait Abdelouahed (9, Morocco). On the women's side it was less of a clear-cut victory since Monica Aguilera Viladomiu (1 020, Spain) only crossed the finish line 22 seconds before Jolanda Linschooten (90, NDL) and 31 seconds before Alessia Bertolino (1 032, Italy).
Tomorrow is the last stage of this 25th edition of the Marathon des Sables. Competitors will run 21.1km between Erg Znaigui and Merzouga as a farewell treat.

Message from Cynthia, 8 April:
"Dear everyone,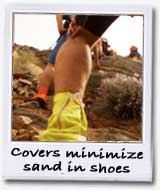 The orange/red things on the shoes are to prevent sand getting into shoes. Sand is the enemy & if it gets in the shoes you get blisters. I have about 10 & they really hurt esp if running & its hot and your feet are already swollen. 50 people dropped out days 1,2,3 mostly from blisters, dehydration. It's 45 degress Celcius, & quite a few falling like me going down the mountain. 50 more dropped out yesteday during long stage.

Remember this is being done wearing a pack about 20 pounds for 8,10, 20 hrs depending on the day.  We sleep in tents open on 2 sides so sand, wind etc come in. Blankets are thrown on the sand/stones and sleeping bag on top so not alot of sleep. Positive is everyone cheers 1 helps other.  Staff are great driving up and down the course checking on people. The doctors fab too. Waiting for Gwen and 2 other tent mates to return from long stage."

Thursday, 8 April:
Day 2 of An Exceptionally Long Stage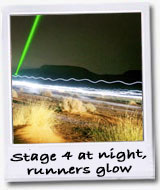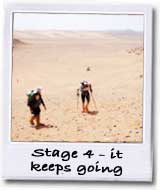 Stage 4 part 2: Taourirt Mouchanne –Oued El Djaid – 82.2 km
See the Route

We left off at check point 4 below, after night had fallen. According to Daraboud.com, the runners arriving to the CP are visibly sore and afflicted by the 51 km just run. Once they reach the CP and get their water, all they want to do is sit or lie down, straight away, in one of the Berber tents or directly on the rocky ground if the tents are full. Several urgent objectives: relax painful leg and shoulder muscles by getting rid of one's ruck-sack AND get out one's tin bowl, something to make a fire and prepare some food quickly… by the light of head-torches and lighting-sticks (which competitors must wear on their bags to mark their presence in the darkness). Their gestures are often clumsy, as if their bodies have forgotten everything, except walking and running. The strange ballet of white lights, fluorescent green sticks and flying sparks make for a surreal atmosphere.
On the finish line, some scream with joy, some cry, others just collapse, like James Cracknell (812 –GBR). The leading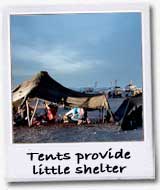 British runner, so exhausted he seems drunk, can boast a proud 17th place, but for now, he has to go straight to the clinic to treat dehydration and what seems to be hypoglycemia.  At day rise, many of the runners are still on the track, looking up to the sun, happy that the terrible night is over, fearful of the temperatures to come. They don't hasten their pace. They just want to keep going, step after step, to reach the bivouac. Gwen reached CP 6 (km 72.5) at 12:39 pm.

At 4:21 pm, after 82.2 km, Gwen completed Stage 4 of the Marathon des Sables. GWEN SUCCESSFULLY FINISHED STAGE 4 IN 31 HOURS AND 07 MINUTES!!!  What an outstanding accomplishment!

Wednesday, 7 April:
An Exceptionally Long Stage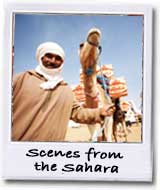 Stage 4 part 1: Taourirt Mouchanne –Oued El Djaid – 82.2 km
See the Route

Day 1
This year's long stage (82.2 km) is rather longer than the average long stage on the MDS, but its most notable feature is the diversity of landscapes encountered: another way to celebrate the 25th anniversary… The long stage, that can run over two days, was organized so that the 50 best runners so far got to start at 12.15, when the rest of the 956 competitors still in the race set off at 9.15.  According to Daraboud.com, this gap is for security reasons: the race doesn't spread over too many kilometers so that the organization can concentrate assistance possibilities.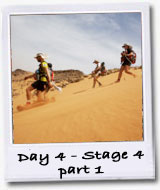 Yesterday, some on the top 20 runners pulled out during the now mythical third stage. This day starts with a 12 km long flat stretch to get to check point 1, where Gwen checked in at 12:04 pm, and afterwards the run goes through a huge, stunning valley. After climbing up to a pass, they marvel at the extraordinary landscape: golden sand at the foot of the mountains, rocky undulations, fields of locust tree and camel grass, large stretches of black shiny stones. Coming out of the valley, CP 2 (km 26.1). Gwen has already been walking for almost seven hours, it's 3:56 pm. The runners also go past a dried up lake of the El Mader wadi and the El Maharch oasis, its inn and most of all its palm trees, offering shade to those who want to rest and recover.  Gwen passed through checkpoint 3 (km 38.7) at 7:55 pm.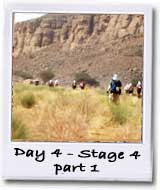 Most of the competitors will be spending the night on the track. It will take the great majority of runners at least three times as long as the top fastest runners to reach the last 30 kilometres. Competitors turn on their lamps, and some will carry on no matter what, others will only stop to eat or sleep a few hours at a check point.  One thing is sure, in the darkness the pace will get slower.  It is going to be a long night for most of our sand marathon men and women.  Gwen checked in to CP4 (km 51) after midnight, 12:12 am. A long night, dotted with firefly-like lights dancing on the track. These are the light sticks handed to competitors.  "A Saharan night, even a painful one, is worth a poetical hallucination… "

Tuesday, 6 April:
Hot, Flat.. And Then There Was One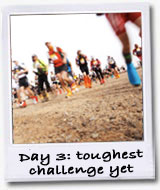 Stage 3: Jebel El Otfal – Taourirt Mouchanne – 40 Km
See the Route

The Daraboud.com website called today's section of the race " A stage calling for great mental strength." 
After 10 hours and 21 minutes under extreme conditions, Gwen reached the Stage 3 finish line; it was 6:50 pm. Cynthia had to stop the race at Check point 1 (km 12.8), at 11:35 am. The temperature was 32.6°C. During her participation in the Marathon des Sables, Cynthia has covered an amazing 77.3 kilometers through the Sahara desert.
Message from Cynthia and Gwen after Day 3
"Yesterday (Monday) 35 km over a mountain, on the plains in the heat, then a steep mountain that took us 2 hrs to climb. We were almost on hands and knees cause it was so steep and we had the packs on. On the way down, Cynthia fell twice, twisted her ankle and scraped her legs and hands. Got to camp after 10 hrs so ate, bandages on blisters and then to bed."

"This morning (Tuesday) we were both tired, after 10 kms Cynthia very tired and feet hurting from blisters. Gwen went ahead and at the check point Cynthia had the blisters cut, medicated and the ankle taped. Tried to continue onto the next check point but couldn't, too much pain so Cynthia has withdrawn. She will stay at the camp with the rest of the team til they finish."

"Will write tomorrow to tell you how Gwen did today (Wednesday). Some 50 people dropped out today for medical reasons- heat, blisters etc. Thanks to all for the e-mails. They are delivered in the evening and everyone read them aloud to share. Miss and love you all"

CYNTHIA, CONGRATULATIONS on your accomplishment!
GWEN, KEEP GOING! We're pulling for you!
It was meant to be a straightforward stage. At least that's what most competitors of this 25th Sultan Marathon des Sables would have made of what was written in their road-book. Some of them even joked on the start line: "After yesterday's climbs, even if today's stage is 5km longer, we might be able to reach our cruising speed…" The friendly atmosphere got even lighter when competitors gathered for the traditional helicopter shot.  At 8.30 am, the 986 remaining competitors set off across the 9.6km long plain before going over Jebel Rich Chquiref.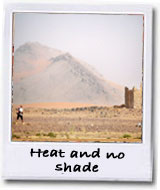 But thousands of footsteps raise a massive cloud of white dust and "the morning optimists get tired of not seeming to be getting any closer to the end of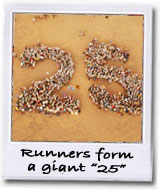 the plain: they realize, what with the heat getting worse, that this will not be an easy stage after all."  Check point 1 (km 12.8) is only reached at great pains by many competitors. Including Touda Didi (D3-MAR), last years' winner on the women's side. Didi is dehydrated and has to get medical help. Sadly, the Moroccan icon must withdraw from the race.  Top US men's runner  Michael Wardian also suffered heat stroke.

The fastest runners reached the bivouac around noon, their faces sometimes showing clear signs of exhaustion. For the lesser runners, the stage has now begun to feel like martyrdom.
At kilometer 22.6, on the dried up lake Ma'der El Kerbir, heat comes both from above and from below, reverberating from the spotlessly white ground. Competitors are gasping for some air, with the unpleasant sensation to be running in an oven. And there's no relief to be gained from the scattered calotropis (small sub-saharan trees): they give off no shade...No one has any questions about the difficulties to be expected of the next stage: they all know it's the infamous "long" heat – 82.2 km. - source: Daraboud.com
Monday, 5 April: Our Dynamic Duo Complete Stage 2
Stage 2: KHERMOU / JEBEL EL OTFAL 35.5 Km
See the Route

Gwen and Cynthia completed the 35.5 Km (22 miles) of stage 2 in 10 hours and 19 minutes. Well done, ladies!!

The 1,008 remaining competitors of this 25th Sultan Marathon des Sables set off this morning for the 35.5 km linking Khermou to jebel El Otfal. The terrain was steep, to say the least, with a most challenging conclusion: the climb up jebel Hered Asfer and its 25% slope factor.

Tomorrow, competitors of the 25th Sultan Marathon des Sables will face a 40 km long 3rd stage between jebel El Otfal and Taourirt Mouchanne.


Sunday, 4 April: ON YOUR MARKS, GET SET...GO!!!
Updates from the first leg:
First steps heading South  See the Route
Stage 1 : IRHS – KHERMOU 29 km

Notes from Cynthia:
"Dear All, Happy Easter.

Sorry we didn't write yesterday, but there was no internet.
A quick summary. Lots of queues for medical and bag checks. Then for water, and so on. Not a minute to get bored. We were interviewed by a Moroccan magazine called "Actuel", so anyone in Morocco should get the edition coming out next Saturday.

The highlight or disaster, depending on how you look at it, was a huge wind storm which blew up in the night and blew our Berber tent, which is open on both sides, down three times during the night.  Today, Sunday, was our baptism by fire. It was hot and hard. Very varied terrain with huge hills to climb up, dried out river beds, fields of dunes, dried out lake beds, salt lakes and so on. Plus our heavy packs. At one point we were getting short of water, so we need to be careful about that in future.
Anyway, we finished stage 1 in 7 hours. Our fellow team member Nadia has the GPS system Race tracker which you can find on www.darbaroud.com. No. 11."

Finally the day has come, and our runners were ready. After the traditional checks of the previous day, the 25th edition of the Sultan Marathon des Sables kicked off near Erfoud, in the Errachidia Province: a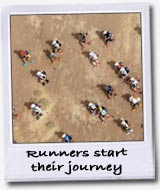 total of 1013 competitors come from 43 different countries thus set off to conquer the desert. At 9.10 am, at last, runners set off with a great freeing cry. The weather is slightly cloudy and not too hot this morning, which makes competitors feels quite comfortable.
Check point 1, reached  at 11:53am, is set in a field of small dunes and provides a welcome opportunity to catch one's breath after 13.4 km. A little break, some water and on the track again. Cynthia and Gwen passed Check point 2 at 2:15pm. The true challenge of the day is a short but very steep climb towards kilometer 19: pretty harsh on the legs… Competitors then go down to a vast field of small dunes, at the beginning of which they find check point 2, at kilometer 22.2. The runners, most of whom got to the end of the stage, are not necessarily over-joyed. They all realized the temperatures shot up in the course of the day (with 33°C at midday) and they know this was a relatively easy stage (by MDS standards), in terms of length and technical difficulties.

Gwen & Cynthia have successfully completed their first leg! After 6 hours and 50 minutes they completed Stage 1 of the Marathon des Sables: 29 km out in the desert.  CONGRATULATIONS GIRLS !!!!
Numbers 21 & 22, respectively, you can follow them here.
Read Gwen and Cynthia's training journal.