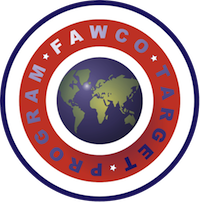 In March 2013, Human Rights for Women – Protecting the Rights and Improving the Lives of Women and Girls Worldwide, was announced as the overarching theme for the FAWCO Target Program 2013 - 2016. The Target Program offers opportunities for local Clubs to make a global difference, by actively contributing toward the achievement of the UN Millennium Development Goals. This will unite the power of 12,000 individual members in 64 FAWCO Member Clubs in 33 countries to make a significant and sustainable impact on the critical issues that support the effort to achieve the UN Millennium Development Goals.

The FAWCO Target Program is comprised of two parts: Target Education/Awareness and the Target Project. Target Education/Awareness focuses on women's rights as human rights, specifically in the areas of political empowerment and participation, economic empowerment, peace and security, and ending violence against women. The Target Project is our opportunity to select and financially support a project that meets the target goal.
The winning Target Project announced at the March 2014 Interim Conference in Brussels, is Free The Girls

Free The Girls, a 501(c)(3) headquartered in Denver, CO, is currently working in Mozambique, Uganda and El Salvador assisting trafficking survivors to set up micro-enterprises in the second-hand clothing markets prevalent in developing countries. The women sell bras donated by women and industry partners in North America and Europe. The FAWCO Target Project will create the infrastructure necessary to support the recent move into Uganda and El Salvador, as well as planned future expansion of programs to Lesotho and Mexico.

Organizations who provide rehabilitation services to trafficking survivors report the greatest single challenge to reintegration into society is finding sustainable employment. These women, often lured or kidnapped into prostitution as young as 10 years old, have no education or marketable job experience when they are rescued in their late teens or early twenties, making it difficult for them to support themselves and their children, much less return to school. Free The Girls provides free job training and an initial inventory of bras to help the women set up their own business. In-country staff supervise these budding entrepreneurs, encouraging them and providing one-on-one coaching, allowing each woman to blossom into a confident, successful business owner. The women purchase additional inventory from Free The Girls and that money is used to cover the in-country costs of storage, import and transportation of inventory. 

The initial Mozambique operation is financially independent due to the inventory wholesale to women in the program. Free The Girls will use funding from FAWCO to create the infrastructure needed to support their recent expansion into Uganda and El Salvador and planned future expansion into Lesotho and Mexico.
They currently have two paid part-time staff - the Executive Director, Kimba Langas and as of March 2014, an Inventory Manager, Pam Gumns - and a strong core of 100 volunteers in the US, providing hundreds of hours of time, plus considerable pro bono services. To ensure Free The Girls' long-term viability, they need to establish paid executive and staff positions that provide leadership, consistency and accountability, as well as expand the storage facility to support the increasing amounts of inventory. 

By economically empowering women through this project, we can reduce the likelihood of them returning to the streets to support themselves. The women earn enough to allow them to support their families, return to school and eventually find other employment. Moreover, by empowering women, we impact the next generation by decreasing the possibility that their children, particularly daughters, will be sold, kidnapped or lured into a life of prostitution.

By participating collectively in the Target Program, we are able to demonstrate the power of FAWCO Clubs working together toward a common goal while bringing a critical global issue to the attention of FAWCO Clubs, their members and their host communities.

For more information on the FAWCO Target Program, please contact Target Chair Johanna Dishongh, at .
Jan 2016 Update
FINAL TOTAL RAISED: $172,000!
To all of our Member Clubs and individuals who helped us achieve this incredible result, thank you for your generosity!