About Us | History of the Foundation
History of The FAWCO Foundation
The Roots of The Foundation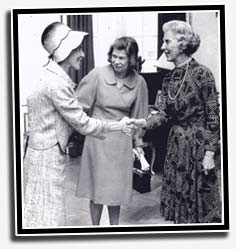 The FAWCO Foundation was established in 1967 by FAWCO President Mary Mag and her Board as FAWCO´s philanthropic arm. For over fifty years The FAWCO Foundation has worked diligently and passionately to fulfill its purpose to implement the Federation of American Women's Clubs Overseas, Inc.'s philanthropic concerns and interest in the global community, specifically by aiding charitable, scientific and educational programs, and by supporting the rights of women and children throughout the world. Today, FAWCO is a network of independent American and international volunteer organizations representing private-sector American citizens overseas.
The Foundation continues to design and tailor programs to meet the ever-changing needs of the global community which it serves, and faces the future confident in its role as FAWCO's philanthropic heart. The FAWCO Foundation listens to your voice, the voice of the Member Clubs, and supports your projects, programs and passions. The FAWCO Foundation is your foundation.

Development of Education Awards & Development Grants
Education Awards:
The importance of fostering peace through knowledge and understanding and the belief that education is essential to developing peace-loving attitudes in children are cornerstones of The FAWCO Foundation Education Awards Program. The first FAWCO scholarship fund was created in 1935 when a member of AWC London donated $1000 a year for two years "to launch two promising American candidates on their studies in Europe." Today The FAWCO Foundation Education Awards Program offers annual awards to Club members and their children.
Development Grants:
The first grants were made in the form of disaster relief in response to requests from Member Clubs at FAWCO Conferences. In the 1970s, guidelines were established and application forms were distributed to the Clubs. In 1985, in response to an earthquake in Chile, FAWCO established a Disaster Relief Fund to quickly answer requests for immediate-aid projects. This fund was transferred to The Foundation in 1997 and renamed the Relief and Development (R & D) Fund. With clubs increasingly demonstrating interest in supporting long-term on-going projects, the R & D Fund was renamed The FAWCO Foundation Development Grants (DGs). Member Clubs may nominate two projects or programs in two different DG categories. DGs are projects and programs known by the nominating club and have mainly aided women and children in developing countries.Recipients are chosen by majority vote of the Member Clubs.
As of 2008, The FAWCO Foundation has made a difference in the lives of so many by giving more than $1 million through the Education Awards and Development Grants Programs.