Awards Intro
The FAWCO Foundation Education Awards Program - an Introduction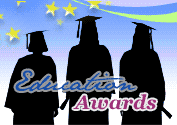 Created by and for FAWCO clubs, the Awards Program recognizes and honors the academic excellence and all-around achievement of FAWCO Club and FAUSA members and their children. FAWCO hopes to promote international understanding and good will by giving annual awards for study, in the US or abroad, at high school, undergraduate and graduate levels.

Since the first award was given under the aegis of The Foundation in 1972, many hundreds of thousands of dollars have been given to over 150 recipients. Every year we adjust the program to funds available, and to the changing needs of members and members' children.
Who is Eligible?
The Foundation Awards Program is open to all FAWCO club and FAUSA members and their children (grandchildren are eligible for the Dual Cultural Award), regardless of nationality and regardless of whether or not the affiliated Club has made a contribution to The Foundation's programs. The children of the members of the Board of Directors of FAWCO, The FAWCO Foundation and FAUSA, as well as Directors themselves, however, are not eligible for awards.
2014
IT AWARD FOR YOUNG WOMEN $3,500
This award is for undergraduate or graduate study of information technology, including the study of computer and telecommunications systems, software and application development, information management, and mobile computing.
Viola Wheeler ARTS AWARD $4,000
This award is for undergraduate or graduate study in the history, theory, and/or practice of the performing arts, visual arts,film and media arts, architecture and graphic arts.

SCIENCES AWARD $3,500
Sponsored in part by AIWC Genoa, in memory of Frieda Bacigalupo Natali, and AWC Zurich
This award is for undergraduate or graduate study of scientific subjects (e.g., biology, chemistry), mathematics, medicine, engineering, environmental studies, computer science, economics and business administration.
HUMANITIES AWARD $3,500
Sponsored by AAWE, in memory of Gertrude de Gallaix
This award is for undergraduate or graduate study in the field of education, law, social sciences, politics, international relations, communications, journalism, history and languages.
DUAL CULTURAL AWARD $1,500
Sponsored in part by Donna Erismann and AWC Bern, in memory of Suzanne Erismann
This award may be used to attend a semester of American high school or an academic or structured educational summer program in the United States.

FAWCO and FAUSA Member Awards
The following two awards recognize the diverse lives of our members, their achievements and their never-ending quest for knowledge and self improvement. Applicants may study in any country.

AWC BASEL AWARD FOR UNIVERSITY DEGREE STUDY PROGRAMS $5,000
Sponsored by Shirley Kearney
This award is for continuing or resuming studies in an undergraduate or graduate level university degree program.

FAUSA SKILLS ENHANCEMENT AWARD $4,000
This award is for acquiring new skills or enhancing already existing ones.